[ad_1]
Link to this page: https://www.socialistparty.org.uk/issue/1140/32737

Home
|
The Socialist June 30, 2021 |
Join the Socialist Party
Subscribe
| Make a donation
| audio | PDF | Ebook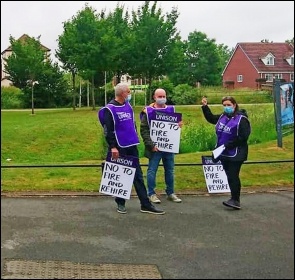 Sandwell picket line. Photo: Black Country TUSC (Click to enlarge)
Richard Gingell, Socialist Party of the Black Country
On June 25, members of the Unison union working for Sandwell Leisure Trust (SLT), West Midlands, staged a strike at several leisure centers in the district. Their complaint is one that we have heard too much about recently: "fire and rehire".
The new contracts imposed by the trust would result in a two-year salary freeze and staff would be removed from nationally agreed terms and conditions for local government employees. This despite the fact that the trust maintained £ 4million in reserves during the pandemic.
Members of the Socialist Party supported the strikers on the picket lines, who multiplied with activists throughout the day.
At three locations (Portway Lifestyle Center, Tipton Leisure Center and Smethwick Swimming Baths), the strikers met with a favorable reception from the public, with many refusing to visit the centers that day in support.
Decent salary
They were also visited by the Dudley Trades Union Council and local union adviser Kerrie Carmichael. But will the Labor Control Council exert real pressure on SLT to settle this dispute?
Last year, the board offered SLT an emergency payment, which was denied. The unions want these services to be brought back internally to ensure a decent salary for staff.
While SLT workers are represented by both the Unison and GMB unions, the GMB leadership has reportedly been unable to muster enough support to even attempt a strike vote. It is a real shame in the face of what is clearly an attempt to dismantle the rights for which workers have fought so hard over the years.
It is now, more than ever, that we need union leaderships to step up and really start organizing their members to combat these underhanded tactics being implemented against them by unscrupulous employers.
[ad_2]